P C Jain, Founder & Consultant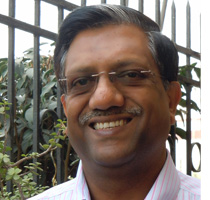 Known to his friends as PC, he also graduated in Commerce from ShriRam College of Commerce, Delhi University, Delhi in 1977. He went on to do his Masters in Business Administration from University Business School, Chandigarh, India completing the same in 1979. He was awarded the University Medal for securing first rank in the MBA course.

PC worked in his family business of electronics and construction for a period of 13 years looking after finance and marketing functions. He later decided to branch out on his own and set up a practice of advisory services with his college-mate Mani, who has been profiled elsewhere.

PC has been majorly involved in syndicating debt and equity for financing projects, preparation of business plans, financial structuring, corporate business strategies and information systems. He has a deep understanding of business processes and uses creative thinking to make them robust yet keeping them simple.